Description: This is a high school level Biology course. Unlike most public schools' curriculum, which follows an evolutionary chain of events, this course is designed to help the student understand God's living creation from a Biblical perspective. It will cover such areas as Botany, Zoology, Cell biology, Bio chemistry, Genetics, Evolution, Ecology, Bacteria, Protists, and Fungus. This course will be taught through lectures/discussion and labs (including dissections and microscope work). Students will be expected to keep up on reading and coursework in order to fully take advantage of lectures and labs.
A Teaching Assistant (TA) volunteer position is available for this class. Contact the tutor for details.
Note: No new students may add to this class at semester. This is a full year course.
Covid - 19 Contingency Plan - In the event that we are forced to transition to online classes at any point in the school year, this class will continue to be held.
Tutor: DeAnn Gerdin has a B.S. in Biology with a minor in Fisheries and Wildlife - Management from the University of Minnesota, Twin Cities Campus. DeAnn has a strong interest in ecology and animal behavior. While attending the U of M, she spent nine months conducting an independent study on the courtship behavior of Mallard ducks. After graduating, DeAnn worked at Woodlake Nature Center in Bloomington, MN before taking a full-time position at Marshall Fields as a Marketing Effectiveness Analyst. DeAnn furthered her education and received a M.A. of Teaching in Secondary Life Science from the University of St. Thomas. Currently she is a stay-at-home mother and a homeschooler with three children.She enjoys soap making, pottery, birding, and running in her spare time. DeAnn is amazed at the wonder and beauty of God's creation and is eager to share it with others.
Cost: $220 per semester
Level: Grades 9-12 (age 14 by September 1)
Prerequisite: Physical Science or tutor approval
Homework: 3-5 hours per week
Text: (To be purchased by the student) Exploring Creation with Biology, 2nd Edition, by Dr. Jay Wile, Apologia (ISBN #9781932012545)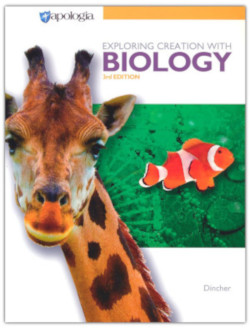 Supplies: The lab fee is included in the price of the class (above).
(Note: Lab equipment and microscopes will be bought by and kept by CHAT. The lab fee goes towards the purchase of dissection specimens and other lab supplies and maintaining the microscopes. )