Description: One on one lessons catered to the invidiual that focuses on techniques, songs, note reading and music theory.
Tuition Note: There will be three 30-minute lessons scheduled during each period. The tuition for each 30-minute lesson is $29. The semester total of $435 can be paid with a single check, or a set of 4 checks. Parents wishing to pay in installments must send in checks for $60 ($70 for later registrations), and 3 checks for $125. The first check will be cashed right away, and the remaining checks should be post-dated and will be cashed on weeks 1, 5, and 10.
Scheduling Note: All students wishing to register for guitar lessons must contact Ben or Jared directly to schedule a time slot. After the tutor confirms a lesson time, students should also then fill out the registration form for the appropriate day.
Some of the guitar students will have the opportunity to perform at the Christmas and/or Spring Showcase performances. (There will be a $5 fee collected at that time from those performing, to help cover showcase expenses.) Additional rehearsals are required for those participating in the showcase at the end of each semester.
The Christmas Celebration date is Thursday, December 13, 2018. The Spring Showcase is Thursday, May 9, 2019.
Tutor: Ben Adler received his AFA in music at North Hennepin Community College, Brooklyn Park. He's been teaching private lessons as well as small classes since 2009. Ben has led worship and played in worship bands in several churches across the cities and surrounding suburbs, as well as doing solo performances and performing with a variety of different bands and ensembles across Minnesota.
Tutor: Since 2010, Jared Sells has taught various instruments including guitar, cello, bass, mandolin, ukulele, banjo and violin and currently has about 45 students. He has performed in a variety of classical and popular music contexts (orchestral, jazz, pop, rock, etc.). He has also done session work and production. He formerly served as a worship pastor at Maple Grove Evangelical Free Church and now serves as a bi-vocational associate pastor with Clarity Church (Brooklyn Park area). He is taking a break from school to focus on teaching and ministry but plans on finishing the last semester of his BA in Music from the University of Northwestern- St. Paul in the next year or so.
Level: Grades 7-12
Prerequisite: none
Homework: At least 4 times a week for 20 minutes
Text: (to be purchased by parents) The Christopher Parkening Guitar Method Vol. 1 (ISBN: 9780793585205)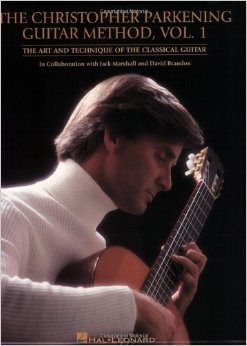 Supplies: guitar, digital tuner, guitar picks, possible additional supplies throughout semester (sheet music, etc...)