Description: The study of United States History is the story of our ancestors and how they shaped a nation. We will explore this story through the eyes of the people who lived it using books and stories, biographies, and hands-on activities. The goal of this class is to bring American History to life for the students.
The following modules will be taught in a 2-year cycle:
2021-2022:
Semester 1: Early 1900s to Modern Times
Semester 2: Minnesota History
2022-2023:
Semester 1: Ancient Americans to the Great Gold Rush
Semester 2: Civil War to the Industrial Revolution
Covid - 19 Contingency Plan - In the event that we are forced to transition to online classes at any point in the school year, this class will continue to be held.
Tutor: Sonja Hettinga graduated with a B.A. degree from Metropolitan State University in St. Paul. There she studied Political Science and Communication. She spent the early part of her career working in a legislative office and committee at the MN State Senate before pursuing a corporate career. Sonja now spends her time homeschooling her two elementary aged children and loves seeing how God's word ties into all studies.
Cost: $120, $130 or $140 per semester (depending on registration date) if you purchase the text on your own
Cost with Book Rental: $130, $140 or $150 per semester (depending on registration date) if you want to rent a textbook from CHAT
Level: Grades 5-6
Prerequisite: none
Homework: Up to 1 hour per week
Supplies: The cost for project supplies is included in the price of the class. Students should come supplied with a spiral notebook and a separate folder to hold handouts.
Required: Internet access at home

Text for this year (2021-22): (to be purchased by parents or rented from CHAT) 1st Semester: America's Story 3, by Angela O'Dell (ISBN #978-0890519837) This book can be purchased by parents for about $30 from rainbowresource.com or amazon.com, or rented from CHAT for $10 per semester. If you would like to rent a book from CHAT, please register for that option or contact the tutor after registration. ; 2nd Semester: TBD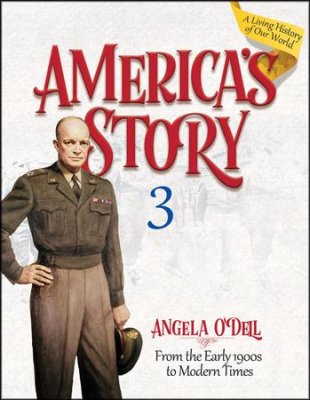 Text for next year (2022-23): (to be purchased by parents or rented from CHAT) 1st Semester: America's Story 1, by Angela O'Dell (ISBN #978-0890519790) This book can be purchased by parents for about $30 from rainbowresource.com or amazon.com, or rented from CHAT for $10 per semester. If you would like to rent a book from CHAT, please register for that option or contact the tutor after registration. ; 2nd Semester: America's Story 2, by Angela O'Dell (ISBN #978-0890519813)