Description: This Physics course covers one and two-dimensional motion, Newton's laws, work and energy, electricity, magnetism, momentum, periodic motion, optics, and waves. Each class time will consist of a lecture, hands-on labs, and group problem-solving. Occasional, local, off-campus field trips that relate to our current topic will be planned throughout the year. This course has a strong emphasis on lab work and proper lab write-ups.
Note: No new students may add to this class at semester. This is a full year course.
Tutor: DeAnn Gerdin has a B.S. in Biology with a minor in Fisheries and Wildlife - Management from the University of Minnesota, Twin Cities Campus. DeAnn has a strong interest in ecology and animal behavior. While attending the U of M, she spent nine months conducting an independent study on the courtship behavior of Mallard ducks. After graduating, DeAnn worked at Woodlake Nature Center in Bloomington, MN before taking a full-time position at Marshall Fields as a Marketing Effectiveness Analyst. DeAnn furthered her education and received a M.A. of Teaching in Secondary Life Science from the University of St. Thomas. Currently she is a stay-at-home mother and a homeschooler with three children.She enjoys soap making, pottery, birding, and running in her spare time. DeAnn is amazed at the wonder and beauty of God's creation and is eager to share it with others.
Cost: $215, $225 or $235 per semester (depending on registration date)
Level: Grades 10-12
Prerequisite: Algebra 1, Geometry, Physical science AND either Biology or Chemistry: Must be able to work well in groups, have a good math background, and be a self-starter.
Homework: 3-5 hours per week
Text: (To be purchased by the student) Exploring Creation with Physics, 2nd Edition: Textbook and Solutions and Test Manual, by Dr. Jay Wile, Apologia (ISBN #978-1-932012-45-3)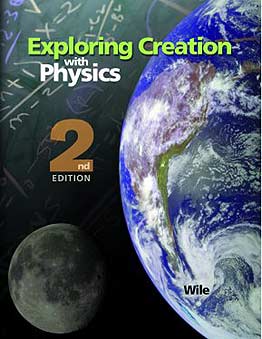 Supplies: Notebook, writing utensils, calculator