Description: A systematic introduction to science designed primarily for grades 8th - 10th. Topics include the atmosphere, the hydrosphere, weather, the structure of the earth, environmentalism, and physics of motion, Newton's Laws, gravity, and astrophysics. Lab experiments, application problems and tests included. Students must keep up with reading and homework in order to fully comprehend the material and to be prepared for lectures, class discussions and experiments.
Note: No new students may add to this class at semester. This is a full year course.
Scheduling Note: The 2nd semester of this class will be 14 weeks in length. The tuition has been prorated accordingly.
Tutor: DeAnn Gerdin has a B.S. in Biology with a minor in Fisheries and Wildlife - Management from the University of Minnesota, Twin Cities Campus. DeAnn has a strong interest in ecology and animal behavior. While attending the U of M, she spent nine months conducting an independent study on the courtship behavior of Mallard ducks. After graduating, DeAnn worked at Woodlake Nature Center in Bloomington, MN before taking a full-time position at Marshall Fields as a Marketing Effectiveness Analyst. DeAnn furthered her education and received a M.A. of Teaching in Secondary Life Science from the University of St. Thomas. Currently she is a stay-at-home mother and a homeschooler with three children.She enjoys soap making, pottery, birding, and running in her spare time. DeAnn is amazed at the wonder and beauty of God's creation and is eager to share it with others.
1st Semester Cost: $230, $240 or $250 (depending on registration date)
2nd Semester Cost: $216, $226 or $236 (depending on registration date)
Level: Grades 8-10
Prerequisite: Pre-Algebra with a minimum grade of C; Must be enrolled in Algebra 1 and competent in solving algebraic equations.
Homework: 2-5 hours per week
Text: (To be purchased by parents) Exploring Creation with Physical Science, 3rd Edition (text MUST be 3rd edition), (ISBN #9781946506511) Apologia www.apologia.com.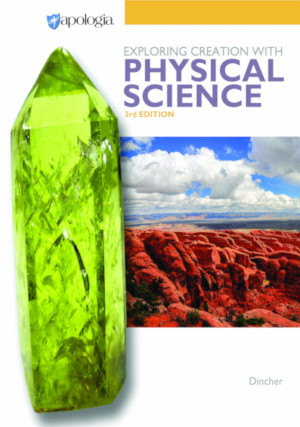 Optional: (Recommended if the solutions to the study guides are wanted) Solutions and Tests for Exploring Creation with Physical Science, 3rd edition (ISBN #9781946506467)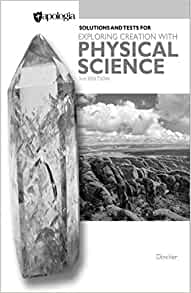 Supplies: The lab fee is included in the price of the class (above). Students need to purchase a notebook, colored pens, and a calculator