Description for Zoology:
Fall Semester -

During the fall semester of eCHAT for 5th and 6th graders we will be exploring zoology while focusing on flying animals including insects, birds, and bats. During the semester we will discuss the mechanics of flight, classification, and physical and behavioral characteristics of these creatures from a creationist point of view. The class structure includes a lecture, guided note taking, and hands-on demonstrations, experiments, and activities that reinforce concepts.
Description for Bio-mimicry: Spring Semester
-
Biology meets Technology: Each week we will be discussing a new organism and the amazing abilities, senses, or substances God gave each of them and how we can apply those to our lives. Whether it is a dolphin's echolocation, a spider's strong but flexible webs, a shark's ability to sense electromagnetic waves, a gecko's ability to walk up glass, or a hag fish's slime, we will explore how we can mimic what God has designed and apply it to our technology. The class will include lectures, note taking, hands-on demos and experiments, and designing inventions of our own. We will have a semester-end research project and presentation on a topic of your choice.
Tutor: DeAnn Gerdin has a B.S. in Biology with a minor in Fisheries and Wildlife -Management from the University of Minnesota, Twin Cities Campus. DeAnn has a strong interest in ecology and animal behavior. While attending the U of M, she spent nine months conducting an independent study on the courtship behavior of Mallard ducks. After graduating, DeAnn worked at Woodlake Nature Center in Bloomington, MN before taking a full-time position at Marshall Fields as a Marketing Effectiveness Analyst. DeAnn furthered her education and received a M.A. of Teaching in Secondary Life Science from the University of St. Thomas. Currently she is a stay-at-home mother and a homeschooler with three children. She enjoys soap making, pottery, birding, and running in her spare time. DeAnn is amazed at the wonder and beauty of God's creation and is eager to share it with others.
Cost:
$152 per semester

Level
: Grades 5-6
Prerequisite:
none
Homework:
Read the
appropriate chapter weekly (fall semester).
Text (to be purchased by parents):
For the fall semester, students are required to purchase
Exploring Creation with Zoology 1: Flying Creatures of the Fifth Day (ISBN 978-1-932012-61-3).
No text is needed for the spring semester.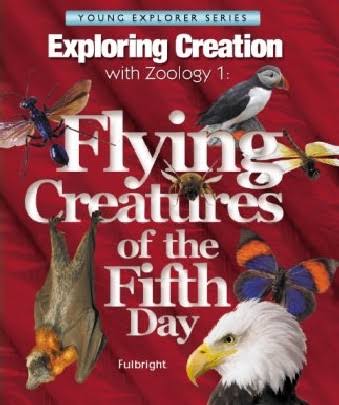 Required for 1st Semester
Supplies
:
The lab fee is included in the price of the class. Student should bring note taking materials, colored pens or pencils if desired